market segmentation: the Millennial mishap
by: Sarah Kneebone
There may be some debate about the exact definition of Millennials, but there's no denying that they're a prominent feature in cultural and economic commentary, with many brands chasing this particular generation of consumers. But how satisfying is the definition 'Millennial' to brands nowadays?
PLAY Research Consultant, Katherine Savage, discusses the Millennial mishap and shares her top tips for implementing a segmentation...
The stereotype.
The standard definition of Millennials groups them as those born between 1982 – 1995.
If we use broader definitions, Millennials can be any age between 13 and 41 years, and that range can cover a lot of different life-stages!
I frequently read articles in the wider press that talk about Millennials as a single stereotype. As a Millennial myself, this can be frustrating, since I'm more than aware of the ways in which I, and those around me, deviate from the widely accepted stereotype.
Time online.
Even if we ignore the stereotypes and pare Millennials down to their core as digital natives, we still see differences with the group, with younger Millennials spending far more of their average week online than older Millennials: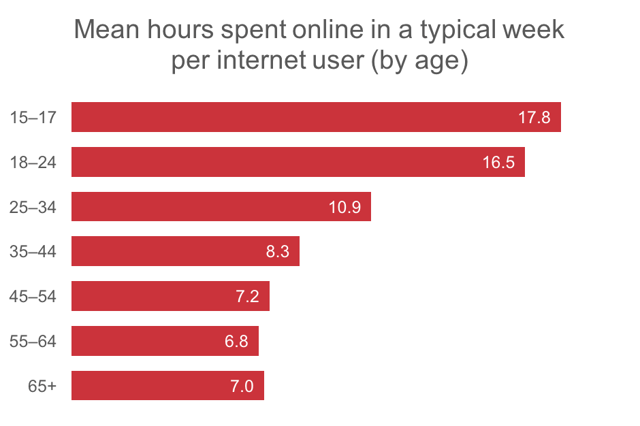 Source: ABS
The reason for this difference is likely to be a combination of factors, including differing levels of interest in online activities and life-stage (e.g. the time available to them as students vs. employees).
Millennial milestones.
People in the Millennial age band are likely to be going through a number of major milestones that might affect their purchasing power and attitudes towards brands.
The most obvious change is that as a Millennial ages, their buying power is likely to increase.
They might also be experiencing the following: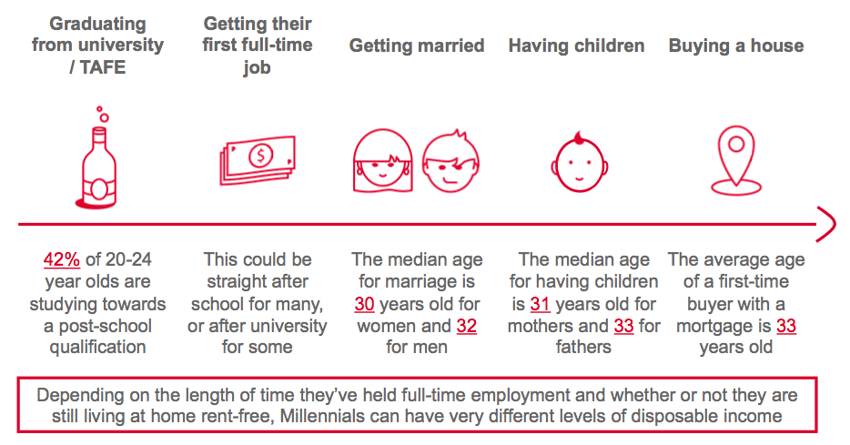 So, Millennials can be working full-time, or unemployed, or full-time students. They can be married, saving up for a wedding, partnered or single. They might be child-free, dealing with a new-born, or taking their kids to pre-school. They could still be living with their parents, renting a flat, or having just bought their first home.
Brands need to think about whether approaching Millennials as a group still makes sense or whether they should be segmented further based on life-stage, income, attitudes to their category and more.
Getting serious about segmentation.
At PLAY, we believe segmentation is only useful if they allow brands to:
1. Feel secure in their knowledge of the market, so that they can make business decisions grounded in reality. It's cheesy, but seriously, you've got to keep things real
2. Identify their target audience(s): know who they are, where to find them, how to communicate with them, and most importantly, identify why their brand is relevant to this audience
3. Use the results to drive innovation internally, so that their business is completely consumer-focused
4. Where relevant, be able to identify the segments within their customer database
A segmentation is as much of an art as a science, because it should always take into account the needs of the business in order to be most effective.
Often, this means balancing the results of the statistical analysis with practical considerations, for example, existing customer data, or other segmentation's already embedded within the business.
Using 'Millennials' as a segment of its own can be an easy solution because a lot of brands are used to marketing to particular age groups, or have collected age data on their customers, but this is ignoring lots of other factors that determine consumers' purchasing behaviour.
Asking the right questions.
Our top six recommendations for implementing a segmentation would be for brands to consider:
1. Usage of and attitudes towards your category:
Who are the early adopters of the category?

Who are the passionate advocates?

Which neighboring categories are taking share that your category could be winning?

What are the key drivers and barriers to purchasing within the category?

Who is buying more frequently in the category than in the past, and who is buying less frequently?
2. Usage of and attitudes towards your brand:
Who are the loyalists and what do they need from you?

Who are the occasional purchasers or considerers? What would make them buy from you?

What are the perceived strengths and weaknesses of your brand compared to your competitors?
3. For marketing: Usage of and attitudes towards media and technology:
How can you find these groups?

How do they want to hear from you?
4. For innovation, unmet needs:
Whose needs are not currently being met?

What are those needs?
5. Life-stage and income.

6. Demographics: You can't ignore age and gender!

This approach would help to tease out the differences within the Millennials group, and brands may well find that looking at this age group in greater detail will enable them to target their consumers more successfully.

OVER TO YOU.

Would you like to talk to one of our experts to discuss how we could help you? Please give us a call on
02 8097 0200 or sent an email to hello@playmr.com.au.


For a creative idea on how to create a segment profile, download the infographic below.

read it, love it, share it.
Sarah is PLAY's go-to content writer with a passion for marrying creativity and communication with clever strategy. A former marketer with PLAY and for international brands such as QBE Insurance and General Motors, Sarah moved home to the UK to raise her little family and start a health coaching business. Luckily for us, she continues to share her talent for the written word with the team in Australia.