get to market faster with innovation sprints
by: Emma Ditterich
We're longtime fans of fresh, effective ways to approach research. We are called PLAY after all!
So, when we partnered with our innovation collaborators at Monash Food Innovation (MFI) at Monash University, this kind of research in the form of innovation sprints became the new norm. But it's not just the approach we fell in love with, it's the opportunity to innovate faster. Inclusive and accelerated research paired with rapid prototyping and real-time consumer testing? Sign us up.
Innovation Sprints are a tool we have used with great success this past year with a number of clients in the FMCG space, including Carlton and United Breweries (CUB). With PLAY's expertise, this bespoke industry program offers a unique opportunity to optimise and overhaul your innovation process.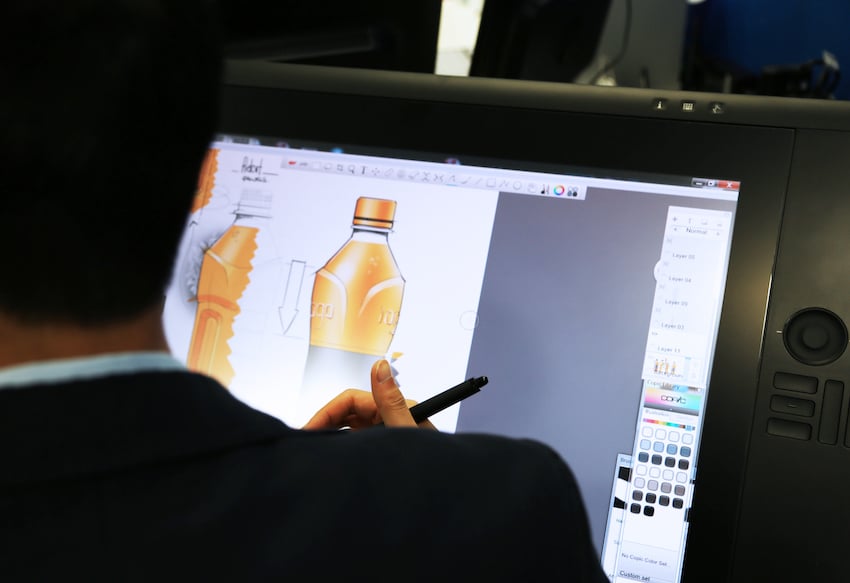 How do I know innovation sprints are right for my brand or product?
There's a good chance that they are. With the ability to cover all consumer and shopper touch points in a compact and iterative bundle, concept, pack, comms, shopper, and product is all on the table to be tested. The exact methodology can be tailored according to your project requirements, timelines and budget. In some cases, the innovation process has been up to three times faster instead of the standard 9 to 12-month turnaround.
One of the main benefits of this technique is getting your product in front of consumers sooner. Ideas can be quickly eliminated or adapted based on real insights, saving you precious time. Better still, using PLAY and Monash Food Innovation's state-of-the-art facilities, we can simulate realistic environments for your consumers so their feedback is reflective of real-life conditions.
By bringing your extended client and agency team into the mix, you can make the most of real-time collaboration to make well informed decisions off the back of the research. The more opportunity there is to implement and test consumer feedback together, the more you stand to learn in preparation for the final launch.
Flexible stages to deliver to your innovation objectives.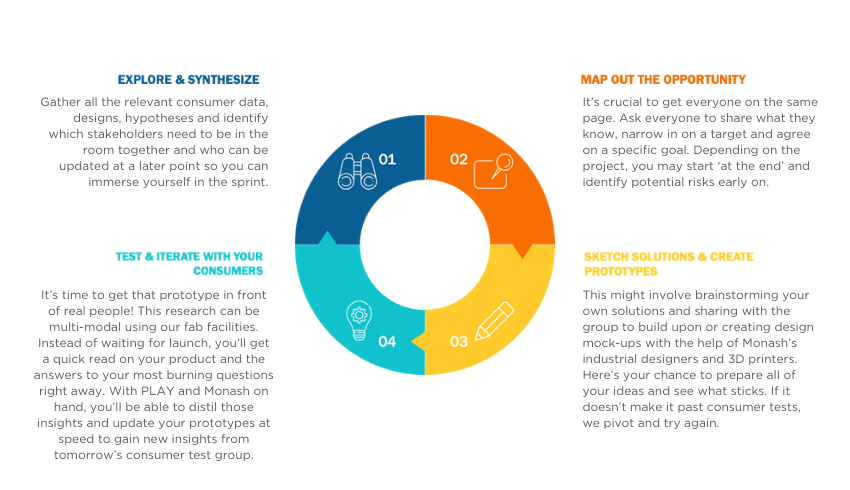 Switching lanes to an online space.
Given current times, we have had to innovate our own methodologies to suit a contactless environment. The great news is there are many ways our innovation research techniques can be adapted for online. This includes bringing consumers together in online focus groups and communities, using digital shopping environments as well as in-home usage tests where they can try things in their own time and in their own space.
The ethos of innovation sprints holds true in the digital research landscape: bringing key stakeholders together with consumers to test and iterate over and over to develop insights for immediate impact and action.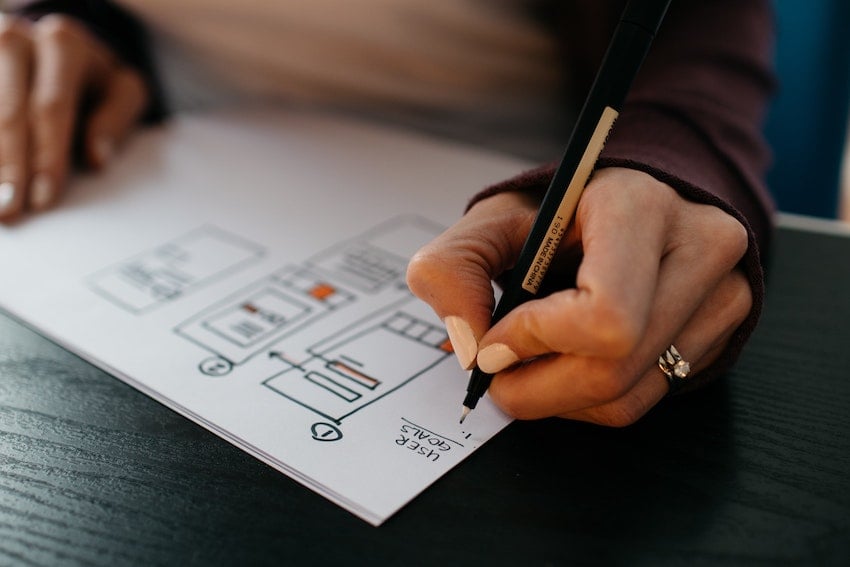 Case study: How CUB took the shortcut to speedy innovation.
"Research typically takes a lot of time. The company [CUB] is moving a lot faster and we need to get to market a lot faster with our products. So, we approached PLAY and Monash so they can leverage all the tools of the university for professional purposes. This includes things like eye tracking, 3D printing, industrial design… They actually have a brewery on site! It's been a game changer for us."

- Robert McElroy

Shopper and Consumer Insights Manager, Carlton and United Breweries
See innovation sprints in action with CUB.
Whether you conduct them online or face-to-face, innovation sprints are a potent tool to fast track innovation in a way that suits your team, timeline and budget.
Click below to watch the video on how CUB utilised innovation sprints to enable their new product development to come to life.

Now is the perfect time to innovate.
PLAY specialise in innovation and shopper insights and have decades of experience in different aspects of the innovation journey including concept, packaging, sensory and shopper specific research. True consumer-led innovation is just a brief away.
If you'd like to find out more about how PLAY's approach can help innovate your product or brand from end-to-end, contact us using the orange enquiry button to the right.
read it, love it, share it.
As PLAY's senior account director, Emma has a zest for consumer and shopper research and has worked with top blue-chip companies in Asia Pacific, Europe, the US and the UK. When she's not unearthing the next 'big thing', overcoming purchase barriers or building category growth drivers, you can find her enjoying the spoils of the Mornington Peninsula with her family and having her powers of negotiation tested by her toddler.