how much does market research really cost in Australia?
by: Nataly Perez
Good research – well designed, well recruited and well interrogated research – doesn't come cheap. And it shouldn't. But in many cases, it's not always clear why research costs as much as it does and what exactly contributes to that cost, so the cost is often the first thing that is debated.
The thing is, good research can make or break your brand. You can argue that no research or poorly designed research could do the same, but you will bear the brunt of the financial burden having to redo or mop up what could have been prevented.
Let's understand exactly what contributes to the cost of market research in Australia.
What factors make up market research costs in Australia?
In Australia, the cost of market research is different to other markets for various reasons, but the critical tenets of market research pricing remain the same: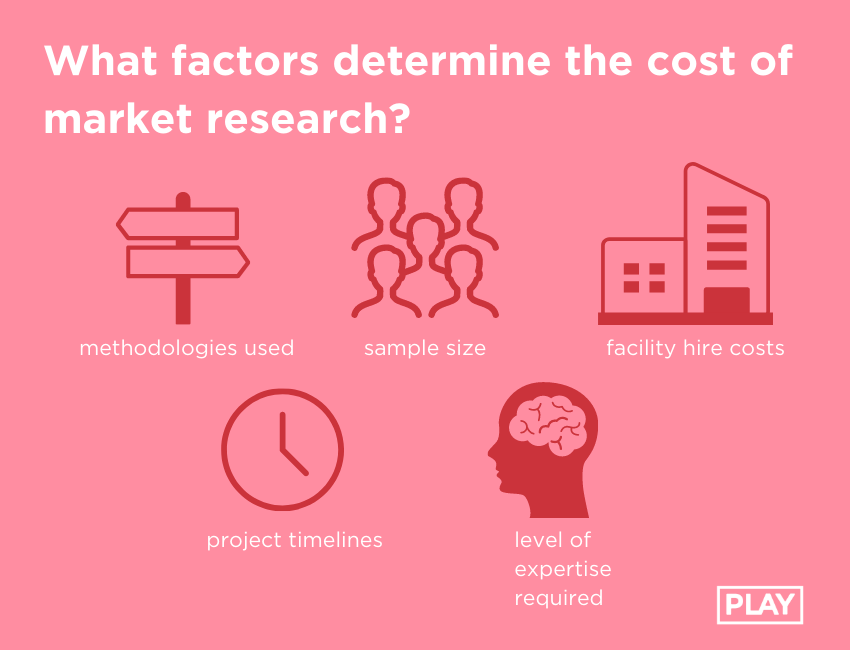 We want to ensure you're well-versed in the different costs so you can make well-informed decisions. After all, what good is a market research agency if they don't share their own insights?
Next, let's understand the different types of researchers and how their expertise impacts costs.
Specialties and expertise.
Researchers can be broadly categorised into two groups: generalists and specialists.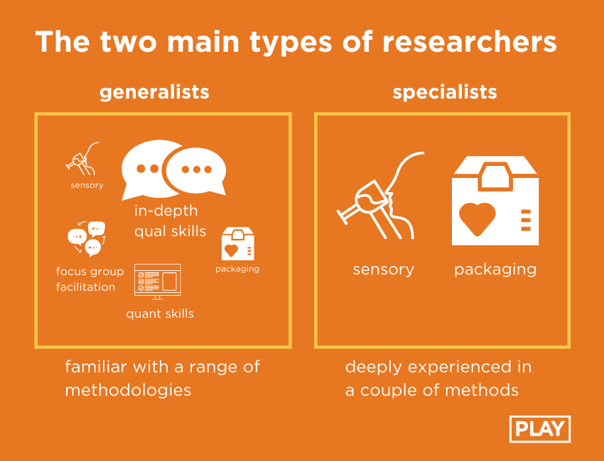 The Generalists.
Generalists, as you may have guessed, are familiar with a breadth of different methodologies, and can apply their experience to many different projects, provided that they are based on typical approaches and don't require any niche expertise. Think qualitative projects, quantitative surveys and product trials. For many companies, this type of research support is perfectly acceptable, but a generalist can't be an expert in everything.
Of course, the danger with this approach is that it's difficult to identify new opportunities to challenge the market you operate in if you continue to use the same methods for every project.
As Henry Ford said, "If you always do what you always did, you'll always get what you always got."
The Specialists.
Now, specialists tend to have a depth of experience in one or two particular areas of market research. They may be experts in sensory research, shopper studies or packaging. In some cases, these researchers are considered 'T-shaped', in that they specialise in one particular field but are broadly competent in other common methods of research.
This is our approach at PLAY. Our team is full of T-shaped researchers who are familiar with the whole gamut of innovation research but also have extensive industry expertise in different areas. In our experience, this approach benefits our clients as we're able to offer deep insights and solid advice on a whole range of issues, more so than a generalist approach.
Which is better?
The best researcher for your job ultimately depends on your objectives and the answer might not always be the more expensive option. In any case, it's important to understand who will be conducting your research too. After all, the person who presents the proposal is not always the researcher that will conduct your work.
Agency structure.
The big guns are front and centre during the contract negotiations but can sometimes disappear into the shadows once the project is won, leaving a junior researcher the mammoth task of trying to live up to the expectations discussed. Sound familiar?
Larger agencies are typically structured (and charged out) like this: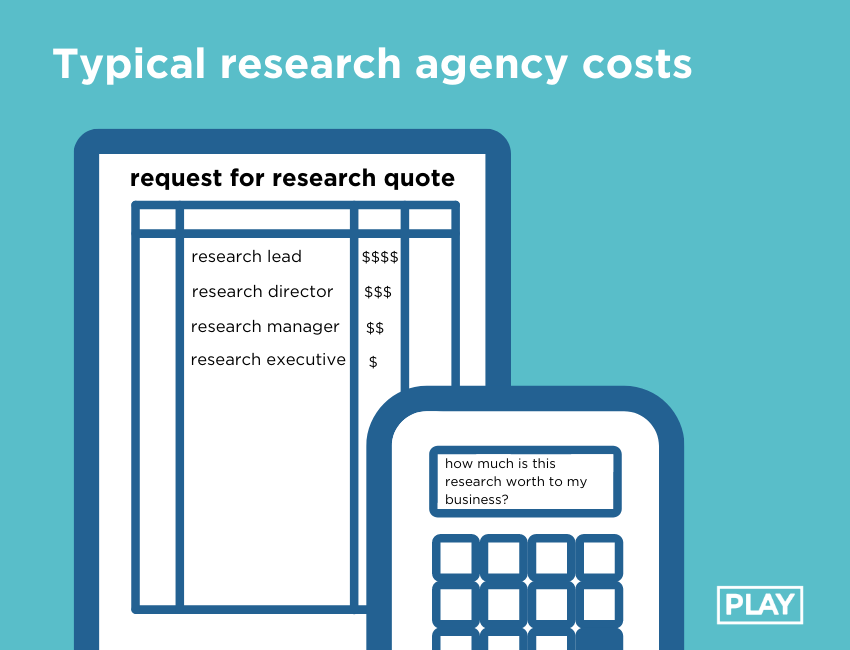 Guess who has the cheapest rate per hour? It's likely to be the person learning the ropes… On your project.
The cost of your research often comes down to the cost of the researcher who will do the work that you've agreed to.
But what if I just need a cheap quote?
When it's a race to the bottom price-wise, many agencies prefer to cut costs without sacrificing the sample size and other immovable costs. This may sound fair until you realise that the real value you're after (and were promised) is beyond the capabilities of the most junior member of the team, who is ultimately the cheapest cost per hour rate added to your cost sheet.
This might not always be the case, sure, but the next time you choose the cheapest quote, ask yourself: "What am I really saving money on here?" Hint: it's normally the person doing the work.
Understanding where to prioritise your budget.
Smaller agencies often can't afford to have multiple hands on projects so the cost you're quoted may be higher, but is reflective of the expertise attached to that cost. It's rarely possible to run a small agency with juniors, so your quote is based on the researcher who will conduct the research.
In most cases, there are only a handful of researchers to choose from in a small agency so all must well-versed in their field and able to do the ground work, as well as build trusted client relationships.
This might not be what you're after. It may be that you just need a simple task completed. In which case, great. Price may be a determining factor. But for important work that determines what direction you take; wouldn't you want an experienced pair of hands on your team?
Right, that's expertise covered. Now, let's take a look at facility hire.
Facilities.
That pesky venue hire cost can be a real pain. You might be able to save money in other areas (see above) but the hire cost is typically the hire cost.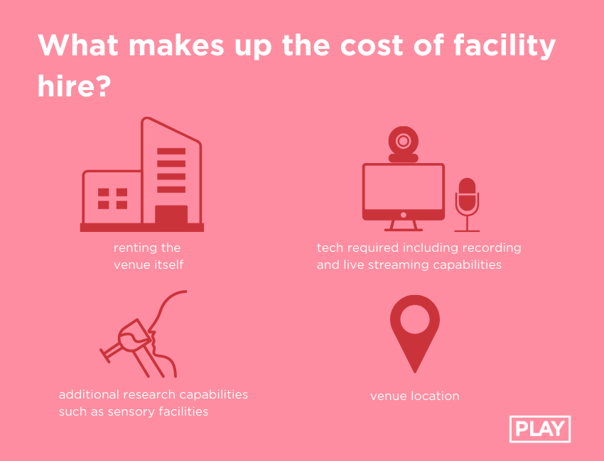 Good facilities don't come cheap. Well-planned focus group rooms require a space that allows participants to feel comfortable, a good quality screen to display your concepts on, and in this new Covid-world, audio and video capabilities that allow remote teams to watch in real-time or review later and take insights from… without having to decipher what participants are saying.
The facilities that fit your project's requirements are worth paying for. If you're unsure exactly what they contribute to your project, ask your researcher. All the better to understand your brief and quote, right? This is especially important if you're not able to physically be in the space or your agency is based interstate or overseas.
Beyond facility hire, there are a few other factors that impact market research costs in Australia.
The actual price of market research in Australia.
It's fair to say that Australia is one of the more expensive countries in the world to do market research. And don't we know it!
Working with overseas partners, there inevitably comes a point where budget becomes a concern.
As our founder Chris once said, "Coming from the UK, I was gobsmacked at how high rates are in Australia."
The reason for this is generally not because your agency is money hungry. With a higher cost of living, higher wages and higher facility costs, the cost of research in Australia has to be upped to reflect this.
We're a very big country with very few people, so recruitment is also a factor in higher costs. Specific demographics take much more time and effort to identify and recruit. Overlay respondent availabilities, travel costs and incentives and the cost creeps up.
To give you an idea, approximate market research costs in Australia are: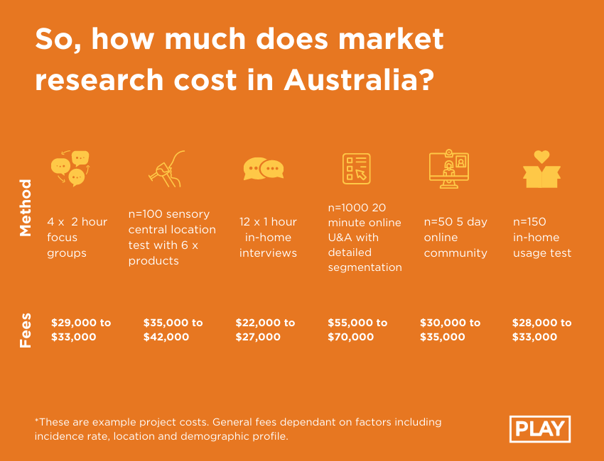 The reality is you must compare the benefits of receiving insights from your research against the costs of conducting it.
The insights you gain from conducting research can fundamentally change your brand, reaffirm your approach or add a nuance that ensures your campaign cuts through in market.

The money you save by not conducting research may not be as valuable in the long term. Leftover budget saved by cutting costs on research rarely equals a successful campaign or product launch.
So, how do you spend your market research budget wisely?
The answer to this question is only as good as the questions you ask your research agency to begin with.
Once you brief them, it's up to your agency (or agencies) to walk you through each consideration to ensure that what you're being offered is exactly what you need. Yes, it can feel daunting at first but it will save you both time in the long run to better understand each other up front.
There's no point writing a brief that requests a push bike to ride to the shops when what you really need is a Harley Davidson to impress the pants off your consumers.
Some questions you should ask your agency include: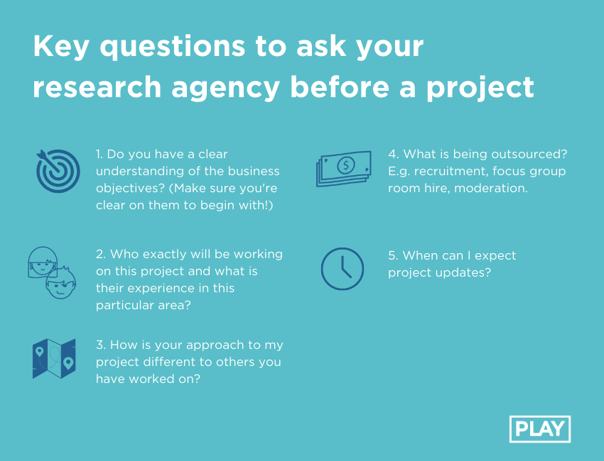 Short term gains vs. long term goals.
Some agencies are very project focused in that they answer your brief, deliver the project and disappear. It's quick, it's straightforward and for some briefs, it's perfectly fine.
Others (including PLAY), focus on long term partnerships, which means they invest in being a proactive partner with you outside of each project. In many cases, the real value of a partnership approach becomes apparent 'between projects' when it helps move you towards your longer term goals.
It's up to you to decide which approach is better for your business.
Don't be afraid to continue asking questions along the way and arm yourself with as much information as possible. Most importantly, invest in the agency that provides the value you need to make key decisions with confidence.
read it, love it, share it.
As PLAY's Marketing Consultant, Nataly is a fan of using insights and creativity to truly resonate with customers. Having spent the best part of six years working in research and marketing with brands in social, travel, FMCG and government sectors, she's a firm believer in looking left if everyone is looking right. That's where the real gems tend to be! She lives on the Northern Beaches and is determined to become a year-round ocean swimmer and show the 'senior' swimmers that she too can brave the cold (albeit with a wetsuit).