reimagining convenience with David Jones and bp concept stores
by: Katherine Savage
David Jones has been in the 'premium' food space for decades and for the most part, their focus has been narrowly aimed at increasing their own market share. Now, they're expanding to a channel that hasn't traditionally been considered premium at all. In fact, quite the opposite: petrol stations.
At last, something more interesting than a half-heated pie and a stale mayo and egg sandwich! Well, that was the expectation. So, the PLAY team decided that it was time for a little excursion to our local concept store in Mosman to find out if our expectations were on the money.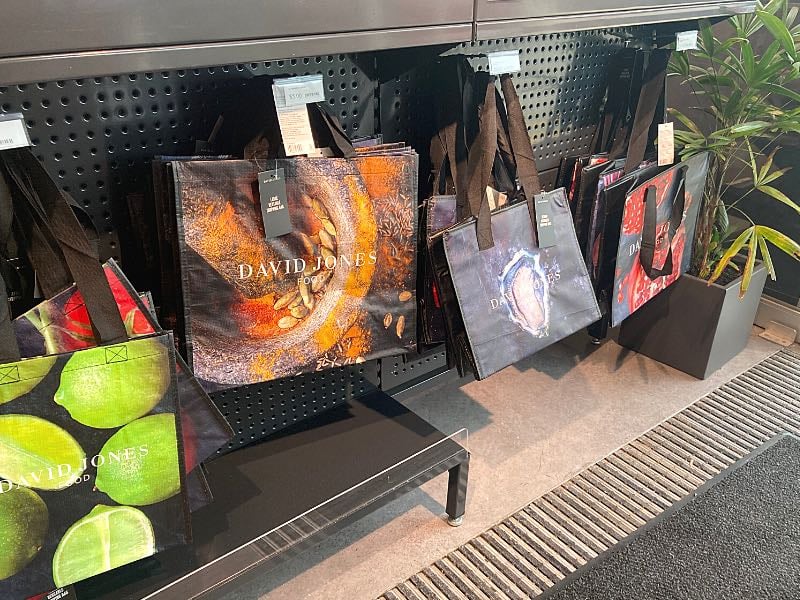 From the outside, it's clear the introduction of David Jones is a first-class addition. Straightaway, the billboard displaying the food on offer is much more enticing than what you'd expect at a service station.
With David Jones food stores now located in 31 bp locations so far, it's a long-awaited facelift for the humble 'servo'. Considering the larger format David Jones Food business is trading at a loss, there's plenty at stake to ensure this convenience format succeeds.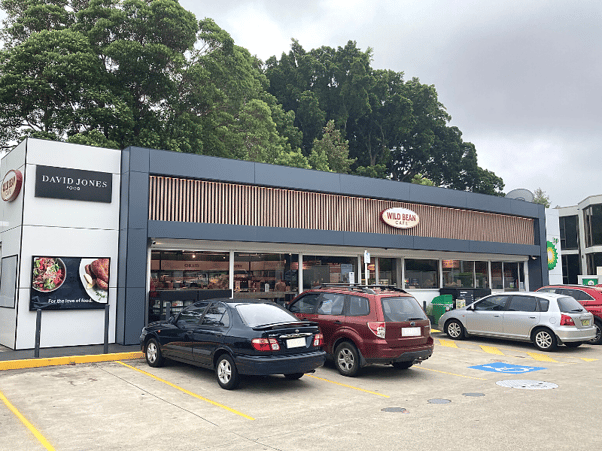 Your coffee needs are still sorted by bp's own Wild Bean Café but the rest is a refreshing combination of what you'd expect a service station to have (e.g. chips and soft drink) with a new range of healthy, on-the-go products which are outside the realm of traditional servos. It's certainly a welcome change.
If that's not enough, the interior feels closer to a rustic homewares store than a service station. The black and timber accents immediately elevate the space beyond the traditional confines of a 'servo'. Although the large wooden table is currently without high stools (thanks, Covid) it did seem a bit ambitious for the space. We're not sure if a petrol station will ever become a place that you hang out at - at least not yet.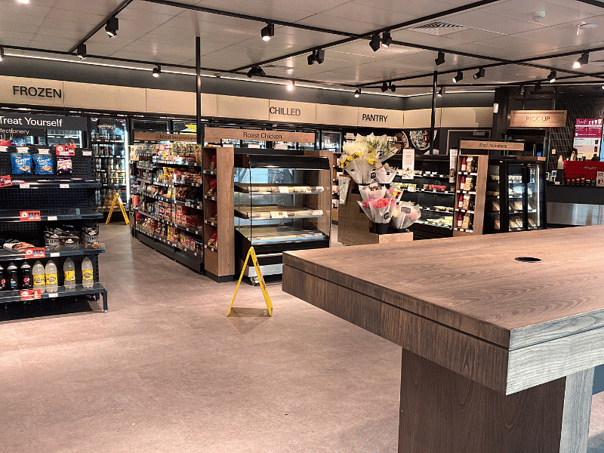 It's no surprise that David Jones and bp designed the new stores with busy customers in mind. Quick food options are readily available and include both fresh items for now and ready meals that you can pick up for dinner later. Health-conscious customers are also well catered for with the introduction of more fresh food like sushi, sandwiches, salad bowls and rotisserie-chicken.
Fresh food is also a welcome addition to road-tripping folk who are more likely to focus their pit stops around petrol stations. Imagine how stoked you would be if you could swap the servo pie for a salad bowl or sandwich after a few hours in the car?!
Sadly, some of their most popular items weren't available during our visit (including their free-range rotisserie chooks) but their salads and (most importantly) desserts were.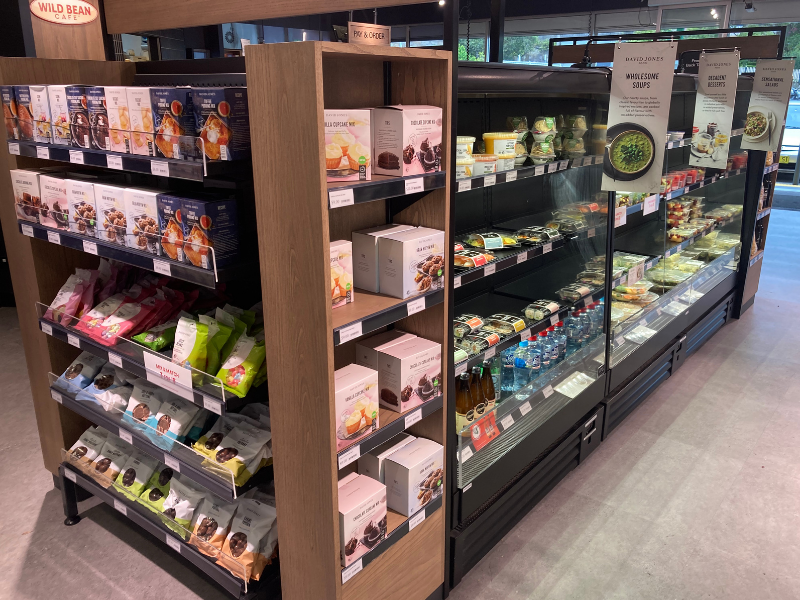 Top-shelf picks included: mac'n'cheese, green chicken curry, butter chicken and vegan-friendly meals. Plus, ready-to-cook meats and pre-prepped salads and veggies. The selection of products on offer are clearly seeking to help those who have embraced the cooking at home trend over the past year, by offering convenient aids like cupcake mixes, gravies, sauces and rice mixes.
They've also got plenty of treats on offer, including ruby chocolate, chocolate-covered salted pretzels and dried mangoes. Interestingly, the bp still had the old classics: Cadburys chocolate bars, gum, and lollies, in another part of the store, separated from the David Jones confectionary.
Each store will also have a range of products available for delivery via Uber Eats. With Foodary by Caltex already on Uber Eats, this addition isn't entirely unique, but the food available at the new David Jones and bp concept stores is definitely a notch above.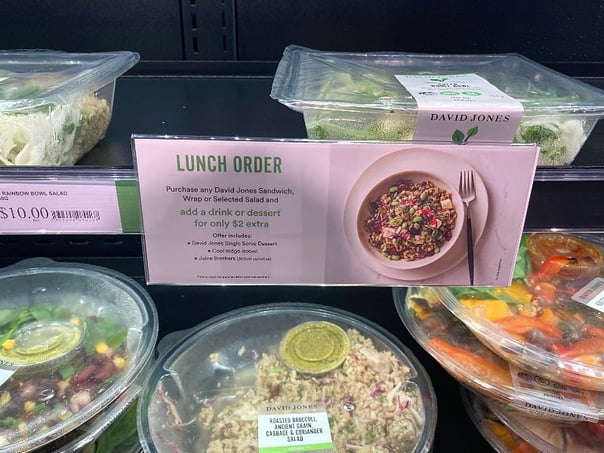 Convenience is no longer just about being cheap and easy.
If there's anything we can learn from this new premium partnership between bp and David Jones, it's that service stations are reimagining what convenience looks like to their customers.
Sure, there are still opportunities to please your typical 'grab and go' customers, but reconsidering what a service station provides and looks like is definitely a welcome change and one that we're excited to see more of.
So, our question to you is this: how can you improve your customer's experience? Maybe there's a chance to add a bit of a premium flair in an unexpected place or a fresh way to grab your customer's attention that you haven't yet explored. Whatever it is, we'd love to help. Get in touch with the team on hello@playmr.com.au or 02 8097 0200.
read it, love it, share it.
Katherine is PLAY's account director and resident packaging expert. She started life as a qualitative specialist before becoming a qual-quant researcher. Her 12 years of experience spans across FMCG, retail, tech, media, financial, auto, social, employer, and B2B: she loves diving into new categories and exploring the forces at play. She's a fan of setting herself arbitrary goals and trying to complete them like translating the first Harry Potter novel from Portuguese (she hasn't got to Hogwarts – yet!).